Barcode Label Maker (Corporate)
Barcode Maker Software (Corporate) is useful to fulfill various barcode labeling needs of different industries including inventory system, healthcare, post office, bank, library system, manufacturing industries, supply and distribution industries. Software provides flexibility to generate customize as well as standard barcode labels.

Software allows user to create multiple barcode images with different or same barcode value using sequential, constant value and random series method. Software allows you to make stickers and assets in different shapes, size and color using various design objects like line, text, ellipse, rectangle, rounded rectangle etc. Generated ribbons, rolls and tags are useful for labeling retail products, stock items, library books, magazines, audio, video, DVD, food articles, clothes etc.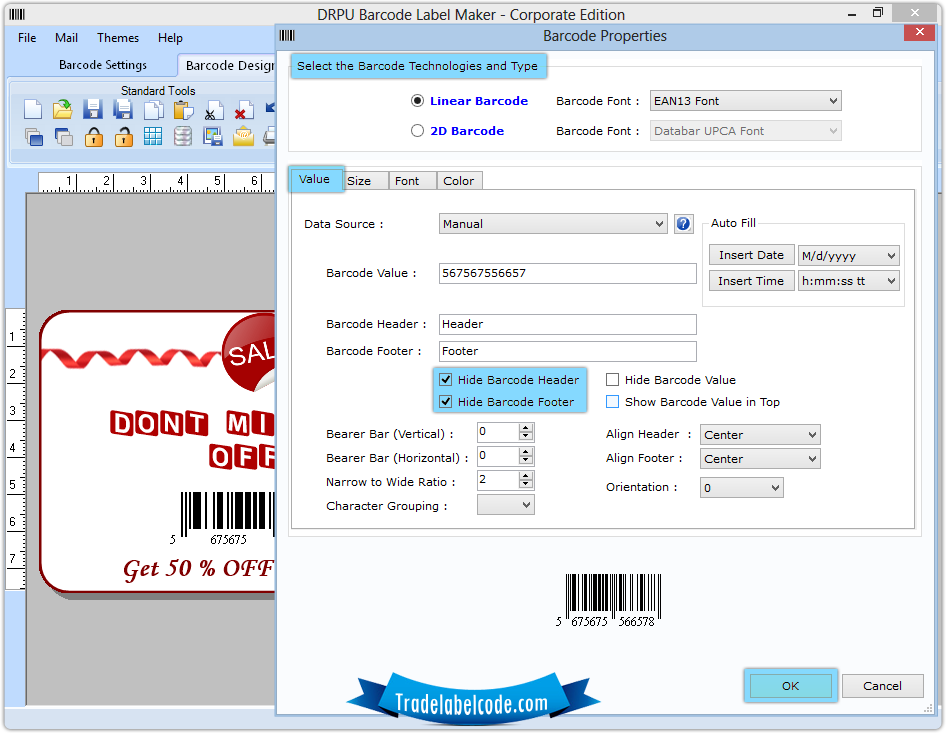 In Designing View, Select Barcode technology and barcode font, then set barcode value, header, footer and other attributes.
Software barcode label printing supports major Linear and 2D Barcode Font Standards
Linear Barcode Fonts:
Barcode label maker software supports major barcode Linear font standards like Codabar, Code 128 Set C, EAN 8, LOGMARS, UCC/EAN-128, USS-93, Code 11, Code 39, Industrial 2 of 5, MSI Plessey, UPCA, Telepen, Code 128, Code 93, Interleaved 2 of 5, PLANET, UPCE, Code 128 Set A, Code 39 Full ASCII, ISBN-13, POSTNET, USPS Sack Label Font, Code 128 Set B, EAN 13, ITF-14, Standard 2 of 5 and USPS Tray Label.
2D Barcode Fonts:
Bar code software supports major 2D font standards like Databar, Databar Code 128, Databar Code 128 Set A, Databar Code 128 Set B, Databar Code 128 Set C, Databar Limited, Databar Expanded, Databar Stacked, Databar Truncated, Databar Stacked Omni, Databar EAN 8, Databar EAN 13, Databar MicroPDF417, Databar PDF417, Databar UPCA, Databar UPCE, Aztec, PDF417, MICR, DataMatrix, MaxiCode, QR Code Font.
Advantage of using Barcodes generator software
Generates multiple copies of barcode with different or same barcode value.
Inbuilt email sending feature to send designed barcode tags on specified email id.
Advance print settings to print multiple copies of barcode on same paper sheet.
Graphical user interface helps user to handle software in simplified manner.
Support all major Linear and 2D Barcode font standards.
Generate large number of barcode stickers using Sequential Series, Random Series and Constant Value Series.
Provides option to save created barcode in any image format like tiff, png, gif, jpeg on specified PC location.
Our Software provides pre-defined print settings of various label products including Ace Label, A-ONE, Avery A4, APLI, Avery US Letter, C-Line Products Inc., Avery Zweckform etc.

Minimum System Requirements for software installation
Pentium class or higher processor
256 MB RAM
18 MB free hard disk space
Supported Operating System
Windows operating system including Windows 7, Windows Vista, Windows XP, Windows Server 2008, Windows Server 2003 etc.